Description
With the tasting package for La Spesa del Norcino, Norcineria Laudani wants you to try the most authentic Norcia products at home. The tasting package includes a piece of bacon, some sausages, a small pecorino cheese, a salami and spices and the most suitable products for spaghetti from Norcia.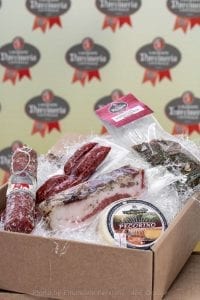 The package is shipped in FREE SHIPPING mode with a full purchase of a minimum of € 80.00.
Thanks to this promotion, you can also add other products to your cart to make a one-time shipment of products from Norcia.
The following products are included in the package (weights are approximate and subject to natural weight loss)
– Pillow – 250 grams
– Pork sausages – 200 grams
– Sheep's cheese – 250 grams
– Norcino salami – 250 grams
– Prepared for Spaghetti alla Norcina – for 4-6 people
To get free shipping, spend € 80 or more and we will ship ALL products by express courier for free.
If you want to buy a similar package, take a look at the products you find below, such as the Norcino KIT with various spices.
or try our proposal for all the TASTE OF NORCIA. One of the best sellers for Christmas, but excellent all year round.
Are you looking for a simple solution already packaged? Do you want a ready-made gift at a clear price? Discover our baskets and our ready-made packages
Do you have doubts? CONTACT US BY PHONE OR BY EMAIL or send us a message on MESSENGER
We are located in Norcia, in the historic center, so you can trust our packaging, they are all made with traditional products and we carefully check the quality of each individual manufacturer. Do you want to visit our Norcineria? Come and discover our CUTTING BOARDS. basket of typical productsWe are always open in Norcia, all day, so you can also take advantage of it for a different lunch and to calmly prepare your Christmas box directly in our store!