Description
La salamella di fegato è un prodotto tradizionale per Norcia. It goes very well with the philosophy that "nothing is thrown away from the pig" and can be considered 100% a peasant product.
The realization is very simple to tell: a percentage of pork liver is added to the traditional salamella (100% pork), and everything is mixed together. In reality, everything is a bit more complicated as it is necessary to calibrate the spices well. The product is recognizable at first sight as it has a dark red color, tending to "purple" or "brown" when more mature. The flavor, as a product enriched with liver, is characterized by a bitter aftertaste, but it depends a lot on the type of processing and aging.
The salami can be enjoyed both fresh and seasoned and goes perfectly with a slightly heated slice of bland bread or as an ideal complement to a mixed salami appetizer.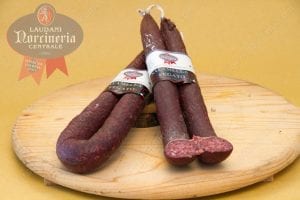 It has a weight of about 250 g.
When the product is fresh it is soft like CREAMOSO DI NORCIA, but its shape can obviously be compared to PORK SALAMELLA
Discover all our photos on our profile dedicated to Norcineria delicacies on Instagram
or contact us directly to place an order on MESSENGER