Take advantage of the authentic flavors of Umbria during your trip and enjoy the platters of cured meats in Norcia
Norcineria Laudani is located in the historic center of Norcia and is equipped with internal tables for a quick tasting of cold cuts, cheesesand to accompany it all with an excellent glass of DOC, DOCG or IGT wine.
Our cold cuts in Norcia are prepared with fresh ingredients, freshly sliced and contain all the specialties that are available in the butchery: starting from the ham seasoned at high altitude, passing through the cured meats made according to tradition, passing through the aged cheese with milk. of the shepherd.
What are the products that we always insert in the cold cuts platter in Norcia?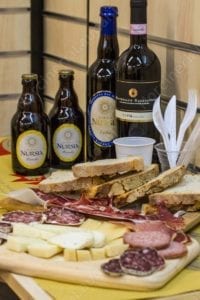 Mountain ham,
Corallina (a cured meat made with thick lardons of fat)
A taste of soft cow caciotta,
Pecorino aged over 12 months enriched with compotes and jams
All this can be paired, as we said, with a good glass of Montefalco wine or with a San Giovese. If you like white wine there will always be an excellent Grechetto waiting for you.
If you prefer to taste our cold cuts with a NURSIA BEER you can try another product born in Norcia, an idea of the Benedictine Monks. The beer is available in two versions: the light version, suitable for any occasion, a light beer appreciated by everyone, and the red, a product with an intense flavor, with a strong taste and a higher alcohol content.
Our proposal is very simple and allows you to have 3 different packages available with:
6 Euro
1/2 liter of water
taste of
mountain ham
2 types of cold cuts
1 type of cheese
10 Euro
1/2 liter of water + a glass of wine or a soft drink
samples of
mountain ham
3 types of cold cuts
2 types of cheeses
16 Euro
1/2 liter of water + a glass of wine or a soft drink
tasting of
mountain ham
3 types of cold cuts
3 types of cheeses (includes aged pecorino)
with mini jar of jam
Pair a craft beer or large bottle of wine for a small fee
Maximum capacity 25 people
Opening hours 9-18 with continuous hours
Do you want to reserve a seat? Do you want to prepare a cutting board directly at your home? Contact us by phone at the numbers