Come and try our cutting boards and, why not, our takeaway sandwiches!
In this extremely particular moment, with the limitations present in restaurants, we can only advise you to come and try our sandwiches in Norcia, and they are to be eaten on the spot or to take away.
Norcineria Laudani is open every day from May 30th, so if you pop into Norcia, come and taste our sandwiches or come and buy the products yourself to take home. Obviously, for all those who come to the shop there is a taste of our most special cured meats!
After all, in our small village, the sandwich with ham or salami is synonymous with FOOD FARM, often enriched by our pecorino. Always local delicacies!
Some of the sandwiches in Norcia
What are the products we recommend … Well, for sure there are our sandwiches with …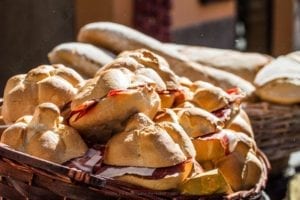 Ham sandwich
Salami sandwich with wild boar
Sandwich with creamy salami
Coral salami sandwich
Sandwich with loin / capocollo
Sandwich with mortadella
Sandwich with truffle salami
There is no shortage of cutting boards, accompanied by the local beer of the Benedictine Monks and the strictly Umbrian wine.
Se prenoti ti possiamo anche riservare uno dei tavoli predisposti all'interno per mangiare i nostri taglieri o per mangiare il tuo panino stando comodamente seduto/a.
If you book we can also reserve you one of the tables set up inside to eat our cutting boards or to eat your sandwich while sitting comfortably.
Do you want to reserve your seat? Send us a message by filling out the form below and we will contact you for all the information or contact us by phone (all numbers here)
Don't you know where we are? Look at our LOCAL ON STREET VIEW
Read our reviews on Tripadvisor, Norcineria a Norcia